We hope to see lots of children at our craft and fun afternoon on Tuesday 10th December at St Swithun's.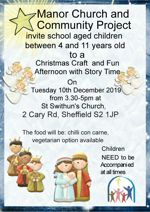 We're having a children's disco at St Aidan's on Saturday 14th November! All the information can be found by clicking on the image below.
We have lots of exciting services and events in the parish this Christmas. We hope you will join us for some or all of them.